Let us do the work
Home and Work delivery for your convenience.
Feel free to contact us at our Mississauga location for more information. We would love the opportunity to be your water supplier.
[gap size="25px" id="" class="" style=""]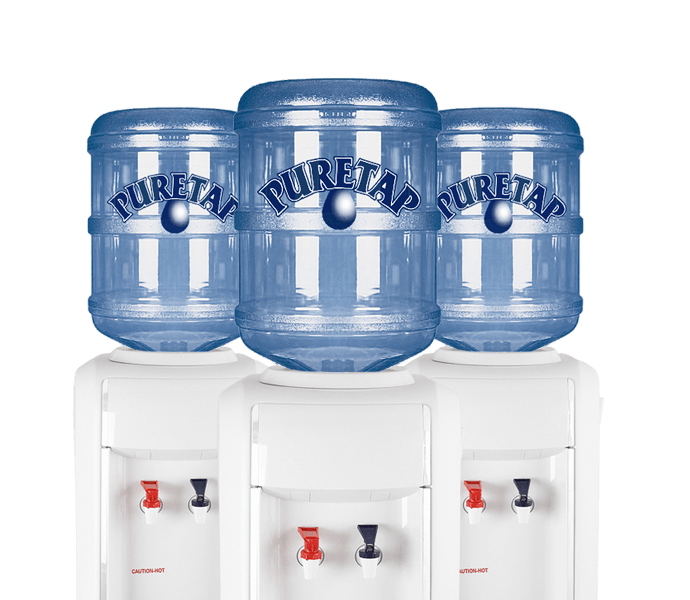 [gap size="30%" id="" class="" style=""]
18L / 5 gallon bottles
REUSABLE, RETURNABLE & RECYCLABLE
Steam Distilled,  or Spring water for your water cooler. Delivered to your home, office or even in bulk for your industry.
[gap size="25px" id="" class="" style=""]
Spring Water
Quality Product
Puretaps spring water comes from Caledon and Hillsburg springs in Ontario. They are natural spring aquifer which are protected against all environmental influences.
Distilled Water
Guaranteed
Puretap distilled water is a virtually pure form of water that has been heated to boiling, creating steam vapour, leaving behind the vast majority of contaminants. Distilled water kills viruses, bacteria, giardia and other forms of micro-organisms.
Wholesale
Now in for your retail store
We can deliver to your store for competitive whole prices. We offer point of sale stands and wide variety of products. Call or email to talk to a representative.
Private Label
Your look. Our Product
Private label is a great way to brand your own water. From promotions to retail stores, we can find a solution for your private label needs.
BUY OR RENT
We have many new and used coolers to choose from. We also carry all the water cooler accessories that you may need!
[gap size="25px" id="" class="" style=""]
MESSAGE IN A BOTTLE
Thinking of promoting an event? Looking for a different way to get your message into peoples hands? Try our branding solutions.
[gap size="25px" id="" class="" style=""]
NEED COFFEE AND BREWERS?
Casa d'Iorio has state-of-the-art brewing systems and premium coffee beans are imported specifically for our proprietary blend and roasted only when an order is placed.
[gap size="25px" id="" class="" style=""]
Contact Us
[gap size="25px" id="" class="" style=""]