When will I receive my Puretap shipment?
Puretap delivery drivers follow a route. Each day they are in certain areas. This is a 2 week rotating schedule. (see below for a delivery schedule example)
Bottle water delivery ordered online before 12pm will be placed into a que. If your delivery area falls into the drivers schedule it could be delivered next day. The longest wait period would be the following week if your order was placed the same day that the Puretap driver was delivering that area.
Some exceptions could be made and delivery is subject to change based on driver schedule. Traffic delays and inclement weather.
Example: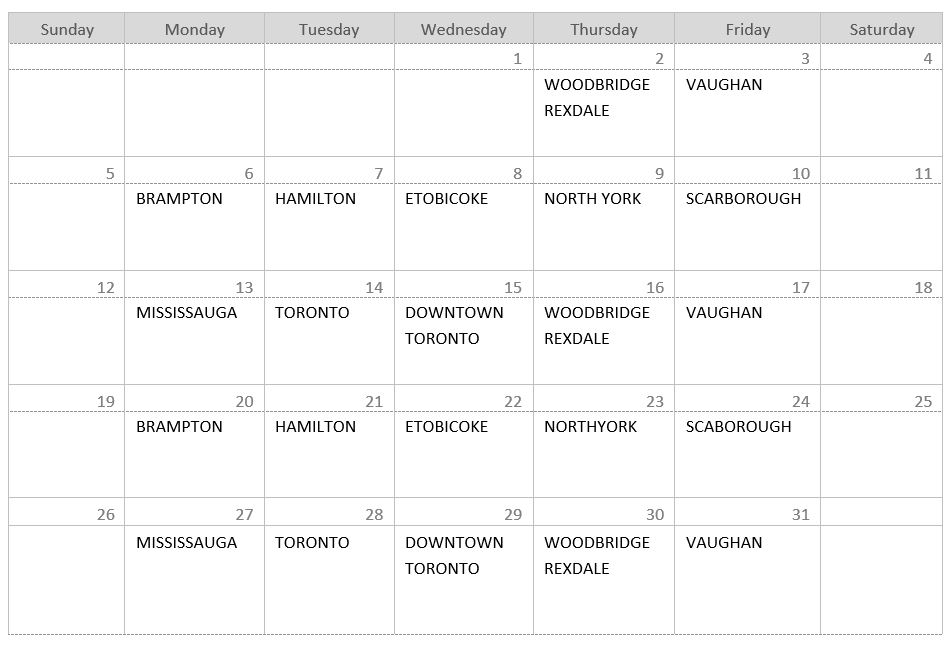 Will I have a window of when it will be delivered during the day?
Puretap order desk can give an approximate time of when the driver is expected to arrive during the day.
Route issues are possible and delivery is subject to change based on driver schedule, traffic delays and inclement weather.
Our trucks are tracked with a GPS feel free to call the order desk to see an approximate updated delivery time for your order.
What if I missed my delivery?
Puretap knows how difficult it can be to wait for a delivery. Puretap will give you the option of letting the driver put the bottles by your door, provide a passcode for safe storing of your bottles in your garage or shed.
We request you leave your business hours on the notes of your online order, send an email or call your with current hours.
Puretap will always send an email or call in advance before your delivery will be shipped. If we arrive your order will be put back into the original que and you could be charged a delivery fee if you approved the delivery and no one was there to receive the product.
Your driver was supposed to arrive and he didn't show up.
Puretap strives to exceed the expectations of customers while maintaining a safe environment for the driver. If the driver cannot find a safe place to park, has not been provided with correct directions or location of the building, they will make an attempt to contact the customer. If the customer cannot find a solution, we will reschedule another delivery or recommend pick up as an alternative.
If the customer does not answer the phone, does have anyone to receive, provide updated hours, change in address, change in business name, does not inform of street closures near delivery, construction stopping delivery.
Puretap will put the customers order back into que and charges may be incurred for the missed delivery.
What if my delivery is a full pallet or large volume?
We would need to schedule a different type of Puretap delivery truck depending your needs.
We offer small pick up truck delivery, large delivery flat bed, LTL and tractor trailer delivery.
There is a separate charge that is incurred on occasions that we have to pick up product or deliver product that is under a certain quantity threshold.
What if I wanted to pick up my order?
Puretap allows you to pick up any of your orders online. Our online ordering system will not give you any delivery charges if the pick-up option is chosen for all products.
When are you open for shipping or receiving?
Pick-up hours are Monday – Friday, 8am-3pm. Any items shipped or received by puretap outside of these hours must be approved by management.
My online cart says shipping costs are calculated during checkout?
There are many different delivery scenarios that may charge you a delivery charge.
Shipping costs are only added if all the products in the cart are selected with the pick up option.
If you do make multiple choices with different shipping variables the cart adds shipping charges only to the items you wish to have delivered. The other items will have to be picked up.
Example: ABC company orders a water cooler and chooses the delivery option but in the same cart they pay to pick up cases of water. Only the water cooler will be delivered and ABC company will have to pick up the cases.
Some exceptions may apply. If you order a flat bed truck you will be charged for a one-time service of that truck.  You can put as much product on the truck as you want with no extra charge. All items must be received by the company using a forklift or pump truck. Flat bed deliveries will not be hand bombed. If the driver needs to offload there may be an extra lumping charge.
I ordered water and have bottle deposits or drums to be picked up is there an extra charge for picking up?
Puretap will pick up any items at no charge if the driver is there for a delivery.
If you require Puretap to pick up outside of a regular delivery there will be a delivery charge.
Do you ship outside of the GTA?
Some items like parts can be mailed through post.
Some items that meet a volume threshold can be delivered. If our website says that we cannot deliver please call our order desk to see if arrangements can be made.
Unfortunately, water is very heavy and costly to deliver. If you require a delivery outside of the GTA, another province, our outside Canada. We recommend the customer sets up the delivery logistics and works with Puretap to have the product picked up.
I need a large volume of water can you deliver it?
We lead the industry in distilled water delivery. If you need a tanker we work with different transport companies. The charge of this tanker will be based hourly. The moment the tanker leaves the yard to the moment the tanker arrives back to their yard.
Logistics will need to be arranged with Puretap before the water arrives.
our content. Have fun!